PLUGS and RECEPTACLES
30, 60 and 100 AMPERES
600 VOLTS A.C. 250 VOLTS D.C.

FOR PORTABLE AND DETACHABLE ELECTRICAL EQUIPMENT

PYLE NATIONAL QUELARC
plugs and receptacles by are built to withstand the most severe operating conditions. This is
proven by years of remarkably dependable service in a wide variety of industrial aplications. The many
substantial construction features of this extensive line of plugs and receptacles and the high quality of
materials and workmanship insure safe operation, uninterrupted service and a long life.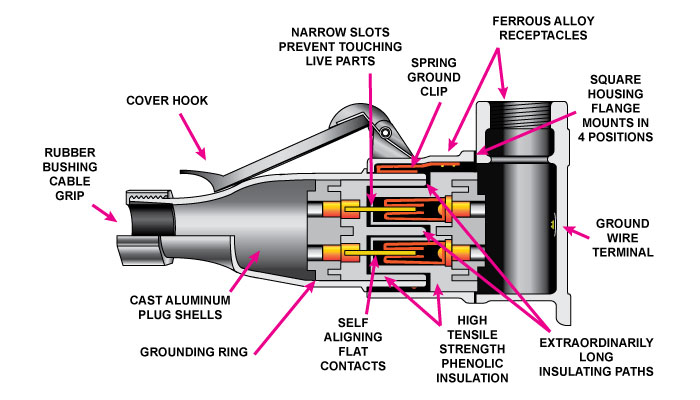 EXTRAORDINARILY LONG INSULATING PATHS of the PYLE NATIONAL QUELARC CONNECTORS
insure uninterrupted service in the presence of dampness or current carrying dust.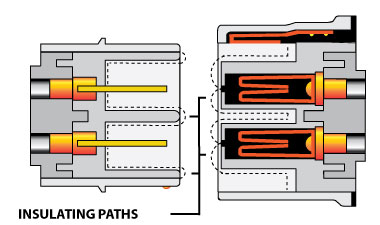 Partions between male contacts increase length of insulating surfaces to prevent arcing from pole to pole and from poles to ground.
COMPOUND CIRCUIT BREAKING ARC CHAMBERS of the PYLE NATIONAL QUELARC CONNECTORS
insure complete snuffing and cooling while the plug is still engaged with the receptacle housing.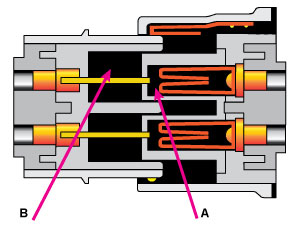 Primary circuit breaking chamber "A" confines the arc during the initial break. Subsequent expansion and cooling of the resulting gas follows in secondary chamber "B" thereby insuring complete safety to the operator when withdrawing the plug at full rated current and rated voltage.
SWITCH BLADE TYPE FLAT CONTACTS of the PYLE NATIONAL QUELARC CONNECTORS insure positive connections and long life.

Spring contact with substantially closed gap at inner and outer ends to provide wiping action and opposed side pressure action as blade enters.

Blade engaged with spring contact under pressure against side walls of insulation cavity and against the full contact surfaces of the blade.